Many will rejoice to read that maxi dresses are back on the runway. After a year of elastic waistbands and baggy clothes, these pieces represent a return to romance and a sign of summer. This versatile garment allows the wearer to glide, giving a uniquely feminine appearance and providing the perfect option for warmer weather. So, how best to style this summer fashion panacea?
The Perfect Jacket
Maxi dresses come into their own when paired with a sleek and sophisticated jacket. As the Fall/Winter 2020-21 sales draw to a close, the time is ripe to pick out the perfect match from some of fashion's most adored brands. Meanwhile, the Spring/Summer collections are also emerging, providing you with a full range of choices. You could opt for denim, such as the light blue jacket from the MSGM Spring/Summer 2021 collection, or the darker shade of Balenciaga's All-over Logo Denim Jacket. Etro's paisley piece could be worn with a plain maxi dress, but exercise caution – it could be too 'busy' if paired with any sort of pattern.
A leather jacket is the solution for an easy switch from daytime to nighttime entertainment. Pinko's Spring/Summer 2021 leather coat is short and tight fighting, which could be a perfect contrast to the flowing material of the dress itself. Ganni's brown vintage biker jacket could be styled with a lighter-colored look. Or you could go all out with the Caban Romantic fringed yellow garment, which would complement a darker outfit well.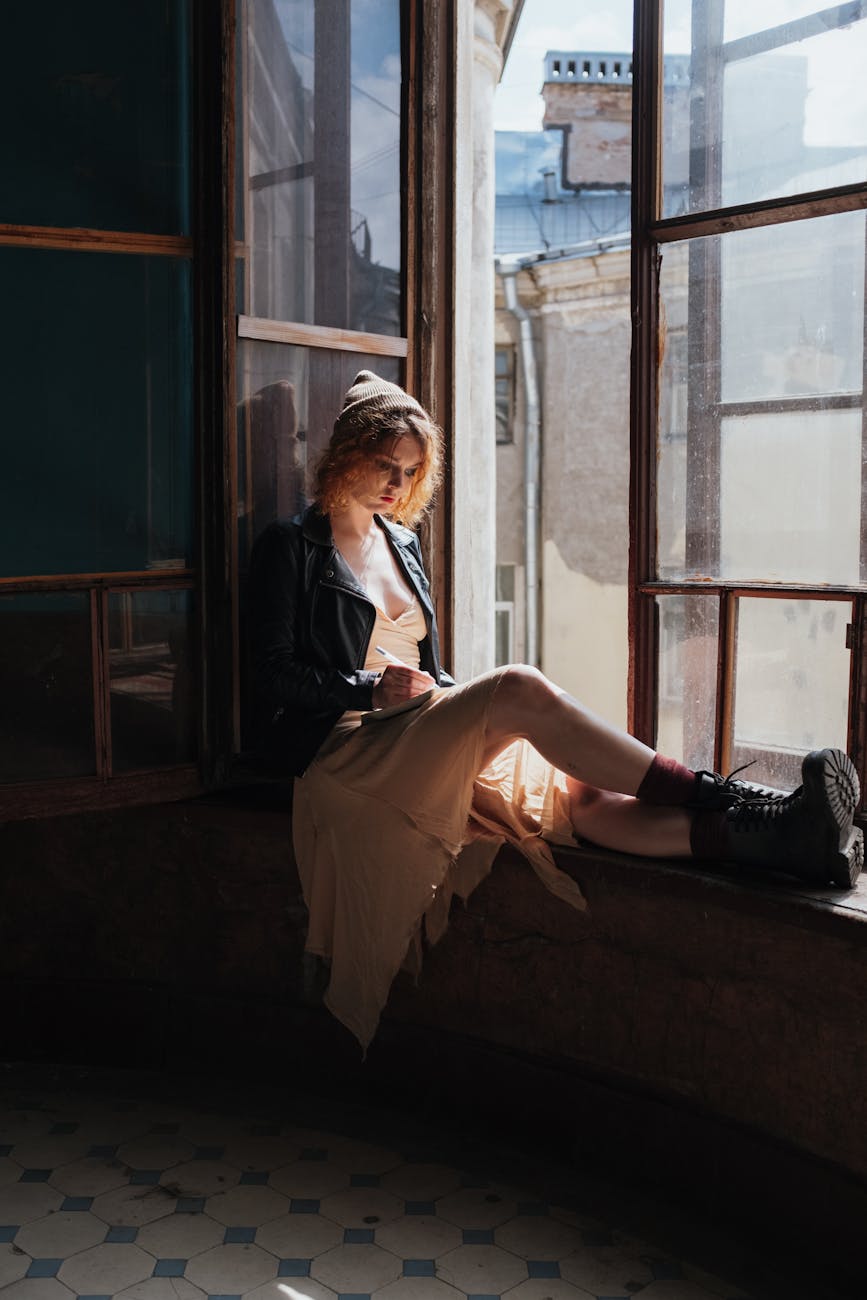 Choose Your Shoes
Not all maxi dresses are designed to trail across the floor. If you opt for one that shows your feet, then you'll have to consider which style of footwear is best suited. Boots should be the go-to here, as they can help complete the look. The Russell and Bromley combats make a statement, with the black leather aiding an outfit transition from day to night and back, if necessary.
If chunkier shoes aren't your vibe then Balenciaga's buckled boots could help. These could suit a longer dress, with the embellishments still visible as you skate along the floor. For a more formal look, most people would opt for ankle-length boots, such as the Salvatore Ferragamo Marineo leather pair. These have something of a heel, for a little height under the dress.
For a longer boot, the Rick Owens 'creeper stocking' stretches up to the thigh, perfect if your maxi dress is slightly cropped in length, or has a revealing side slit. Black isn't the only fitting color, either. Church's leather Chelsea shoes are a rich shade of brown and could complement brighter outfits, especially those that boast shades of red.
Maxi dresses are extremely versatile. They can suit a casual day trip just as much as a glitzy night out. The unrestrictive nature of the garment is perfect for those who may feel uncomfortable wearing skin-tight clothing – fit for all body types, it helps bring confidence to the wearer. This item also reflects the trend towards looser-fitting clothes, which we've seen with the rejection of skinny jeans and tighter tees. Pairing it with different jackets, shoes, and accessories, you can create several completely different looks, across Spring, Summer, and even into Autumn.